Leave demographics, targets, and archetypes at the door.
What do you have to offer, and how do you find the people who need it? That's what audience means now.
This Issue is extra special as it is the 50th edition of the Shape/Shift Report that has ever been published, well, ever. Fifty!
We want to continue to deliver you delicious content. We want you to finish reading every issue in 2019 having learned something new. We want our "launch" emails to ignite a light in you; reminding each of you that together, we are kicking off another month.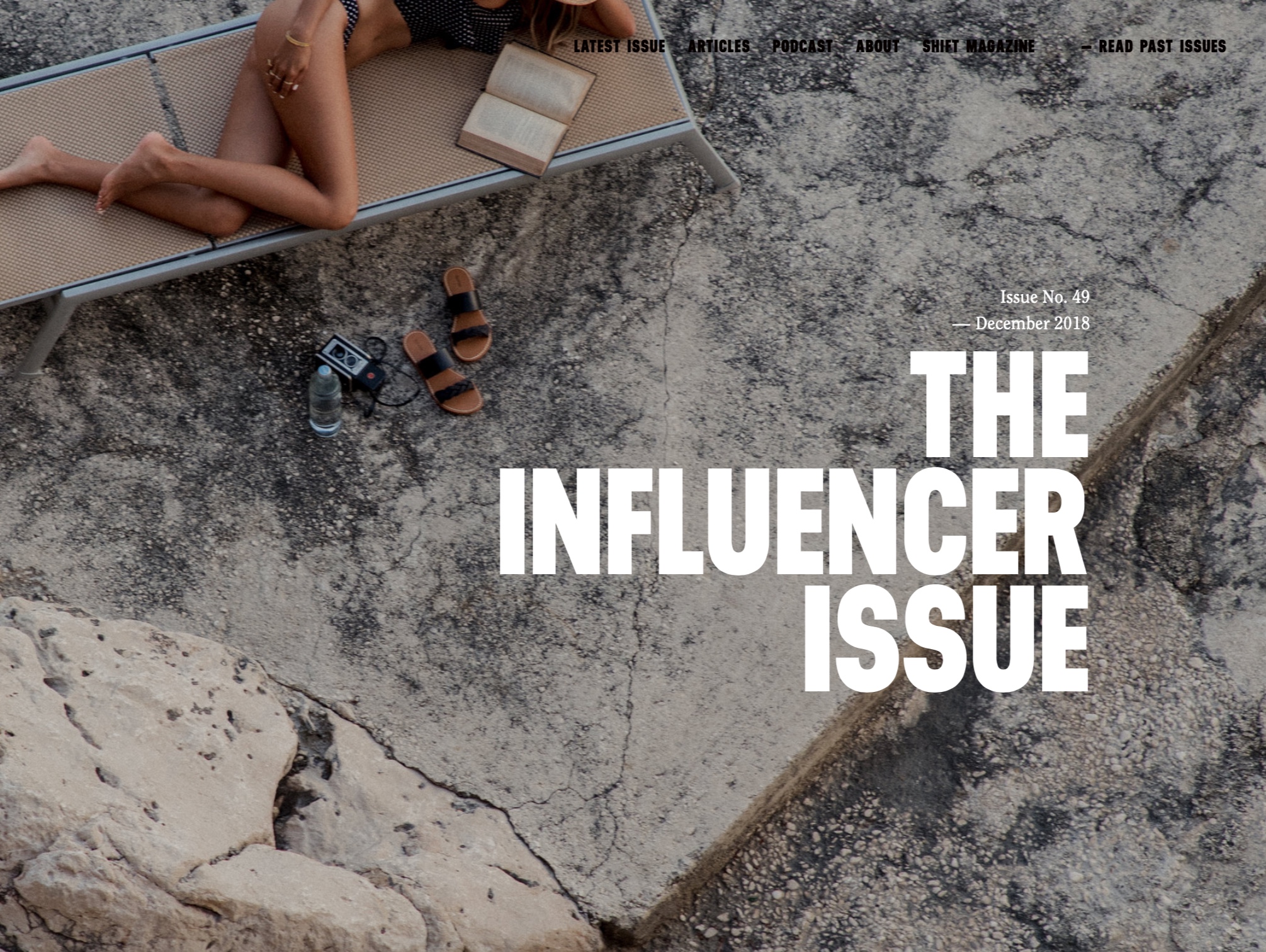 Today, everyone has the chance to become an influencer. Heck, some of the most popular influencers of today don't even exist in the flesh.
Welcome to our influncer issue, where we chat about next wave of influencer marketing, chat to an influencer, and chat how to win the hearts of an influencer.
A third ingredient: the outside influence.
So with no silver bullet or winning formula readily available, I urge you to still trust your inner process, but listen to those in similar positions to your own. Take advice. Try it out for yourself. Tweak it. Implement it.
Influence. Or, influencer.
Influencer marketing is quite possibly the most *authentic* form of advertising that has only been made possible by the ease and shareability of what is technology. Social media, if I'm being more specific. So how can brands leverage these individuals? Does it make sense for every brand? Does it pay off? We cover all of these topics and more within The Influence Issue.
We're about to get all 'The Jetsons' on you.
Not really, but it's a topic we can't resist delving into: the future. The big unknown. I'm always asked about my opinion as to the future of social media and digital consumer behaviors, and it's a hard one to answer. I wouldn't say I'm as much of a forecaster, as I am a nerd for insights and behaviors, but I can certainly make some assumptions
Buzzword alert. Authentic / Curated / Deep Dive / Shareable.
I'm guilty of using at least one of these daily, but none of them can measure up to the Merriam-Webster 2014 word of the year: Culture.
We realized "impact" can mean so much more.
It's about the impact a strategic brand story can have on the success of your campaigns (and sales). It's about the impact direct-to-consumer companies have had on the retail industry. It's about the shifts and changes that have eternally changed the way we think, act, do and buy.
In an era of digital, where does analog fit in?
We're constantly preaching that offline drives online. Because it does.
In this issue, we speak to the doers, shakers and makers who still execute analog practices in their business - whether an illustrator or an event producer. Additionally, we crafted our very own digital detox developed specifically for successful creative brainstorming.
Technology. Where would we be without it?
By the time you get through this issue, technology will have advanced in one way or another. Apple will have received close to 30,000 orders for its Apple Watch, 100 million people will have used Snapchat, and the app Kim Kardashian: Hollywood will have made an estimated $700,000 in in-app purchases.
This shouldn't come as a shock to you. Tech is the wave of the future, and we are just riding it.
Identity is both universal and utterly subjective.
Every brand and individual has one and yet for each of them, it's a completely unique combination of who and what they are and why. The Identity Issue delves into the exploration of personal identity through social media, keeping in mental intuitiveness as an entrepreneur who struggles for personal time and reflection, and even how to take your digital brand identity into offline environments.
To us, victory is about winning the culture war.
But victory can mean so many different things to different people. How do we measure our successes as they change quarter over quarter, year over year? What exactly does 'winning' look like in the digital age of constant wins? Are we successfully quantifying the results of our achievements?
The Victory Issue digs into this, and much more.
You've heard it a million times over: Content is king.
But how do you make content work for you? How do you create something that people want to see / read / consume? How did this whole world of branded content really take off? Let's face it. Content is a line item in companies budgets (heck, in your budget), and it's up to you to be on the cusp.
The Resolution Issue isn't as cliche as it sounds. Swear.
We all aim to start a new year with a fresh outlook, a new set of goals, and a clear focus on how to tackle creative problem solving. Some of the most creative and strategic people in the business dish up just that.
We all want an audience. But just how do we capture it?
What do Millennials actually want to see and here? How does one capture the audience they're looking to get in front of? We tackle all this and more in our most recent issue of the Shape Shift Report.
The Create Process Issue digs into the who, what, why, when and where of an individuals creative process.
We talk to creatives cross industry, from a lawyer to an editor. No creative process is the same.
A discussion on the power of influence and it's impact on brands.
This issue delves into the insights and trends around the much buzzed and coined term: Influence. With over 40 pages of stories, insights and tips, we know you'll enjoy digging into this issue.